Product code: TL.033.001
Power Supply Included
Antenna Included
March 2015:
Firmware upgrade for devices with release 1.1.1 and previous
Download the zip file 
(inside: pdf procedure, clear terminal + commands file , driver USB, FW 1.2.0)
Device Complies with CEI 0-16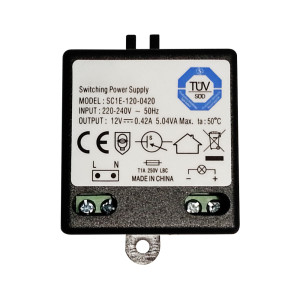 EASY FV AEEG 421/2014 CEI 0-16 annex M
The device EASY fullfills the requirements of the deliberation of Authority for electric power, gas and water system, finalized to guarantee national power system security.
The deliberation defines the mandatory rules of installing the remote control system for shutting down power, managed by the owner of the production plant network (photovoltaic/eolic/cogeneration) up to or exceeding 100 kW.
EASY can be directly connected to the PI interface and can operate with the switching off and remote diagnosis through remote control preset and according to the deliberation.
Those who adapt to it within 06/30/2015 gain a money reward up to 800€, then the reward decreases of 50%, until 08/31/2015.
In case the adaptment will be missing, GSE will provide to cut off the bonus reward to the power plants (various feed-in premium, from first to fifth).
Remote control
• activation/deactivation of DO by SMS with compliant protocol AEEG 421/2014 CEI 0-16 annex M
• dispatch of DI state by SMS with compliant protocol AEEG 421/2014 CEI 0-16 annex M
• STATUS remote request of the implant with SMS
• management of enabled CLI (up to 50)
• power backup management by 3 internal rechargeable batteries (3XAAA)
• 1 serial RS232 TTL available for interfacing to SPI (optional adapter from TTL to RS232 or RS485)
• 1 mini serial USB for command programming/setup
• alarm warning for missing power supply (in case of backup batteries inside)
• measurement of temperature on an internal probe, by remote via SMS
• measurement of temperature on an external probe (optional), by remote via SMS
• full setup by SMS
• upgrade of application by remote in case of normative upgrades and/or addition of new features
| | |
| --- | --- |
| Power supply | 12Vdc 1.3VA max; power supply by 230Vac power adapter included |
| DI Inputs | n°2 to be connected on external free contacts (voltage polarized by the modem) |
| Interfaces | n°1 serial RS232 TTL • n°1 mini serial USB for programming |
| Communication module | quad band modem 850-900-1800-1900 MHz with proprietary OS and AT standard commands |
| Measuring sensor | 1 integrated temperature probe |
| Optional measuring sensor | 1 probe type NTC 10Kohm 1% – maximum length wiring 5 meters – not supplied |
| DO Outputs | 2 with voltage free contacts |
| Contact capacity | 5A 30Vdc, 3A 400Vac (cosφ 1) |
| Command buttons | 2 frontal for relay commutation |
| Rechargeable batteries | 3 x AAA – minimum 800mAh – not included |
| Dimensions | 7.5×3.3×13 cm |
| Protection | IP30 |
| Terminal block | Screw terminals |
| Communication protocol | SMS commands with compliant protocol AEEG 421/2014 CEI 0-16 annex M |
| Operating temperature | -20°C +55°C |
| Absorption | Standby=>50mA /12Vdc – Talk with input/output active => 450mA 12Vdc |
| Standard antenna performance | Vertical polarization Gain 3db Frequency range: A => 890-960MHz B=>1710-1990MH |